Personal development at Spotify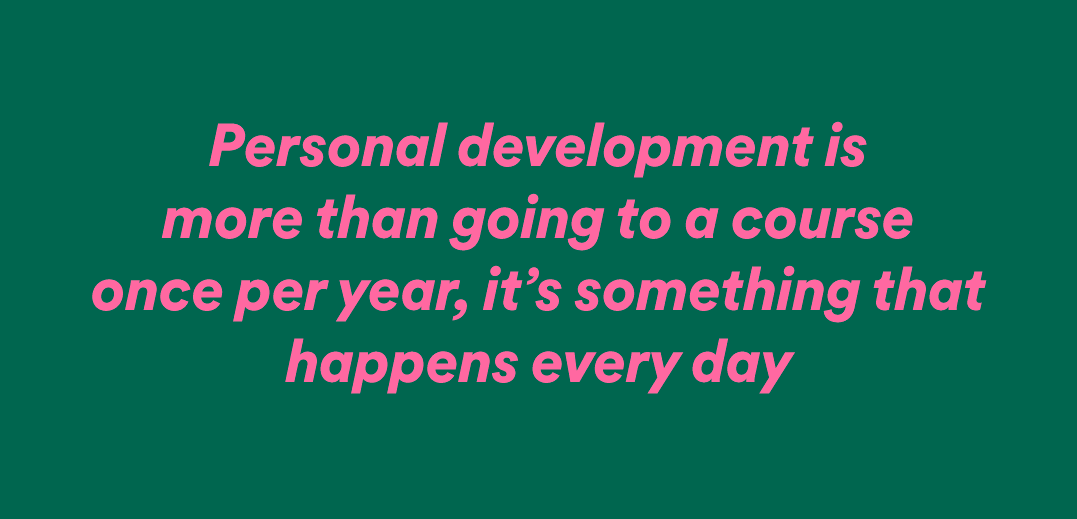 This is an article describing how we see personal development at Spotify, especially within Technology and Product.
We believe being able to grow, learn new skills and achieving mastery is a big part of what motivates a person. Those things are also important in our fast-paced world where our surroundings (market, competitors, technology) and Spotify itself changes all the time. We need employees that are eager to learn, that are open to change and that want to take on bigger challenges as they and the company grow.
Personal development – every day
Personal development is more than going to a course once per year, it's something that happens every day. As part of an autonomous squad you learn about the end-to-end challenges of creating a product. Everything from understanding your customer and making tough business decisions to solving the technical challenges and making sure that the product is up, running and maintainable.
Working at Spotify you will have a manager that is a servant leader who focuses on your personal development. Your manager will get a lot of support to continuously improve as a manager and become even better at coaching and mentoring you.
Personal development – through structured learning
We also believe there is a need for more structured learning – courses, workshops, trainings, presentations, book circles, dojos, etc. Some of the brightest people in the industry work at Spotify, so there will be plenty of opportunities to learn from your colleagues. Preparing and holding a course or a workshop is also a great way to learn even more about a subject.
We also attend external courses and conferences to ensure that we stay up-to-date with the latest developments in the industry. When you as an employee attend a course or a conference, you are expected to bring back as much knowledge as possible and share it with others in the company.
Add-ons – Career as a tag cloud
When we asked our employees about career possibilities at Spotify, we realized that many of them wanted other career opportunities than to become a manager.
As a result of this, "add-ons" were created. Add-ons are a way to explore new skills and responsibilities outside your normal role. Instead of looking at career as a ladder where you move from one role to another, it becomes a tag cloud where each tag is a skill or area of responsibility that you can add to your normal role long term or short term.
A good example of an add-on that serves both the individual and Spotify is the speaker add-on. If you have the speaker add-on, you spend part of your time presenting at conferences around the world. You also get speaker training so you can develop your speaking skills and represent Spotify even better. This way, speaking becomes part of your responsibilities and you do that along with your normal duties.
Other examples of add-ons are: Trainer, Mentor, Coach, Writer and Champion.
Tags:
personal development