Lemonade from Lemons: Tiny Desk Conference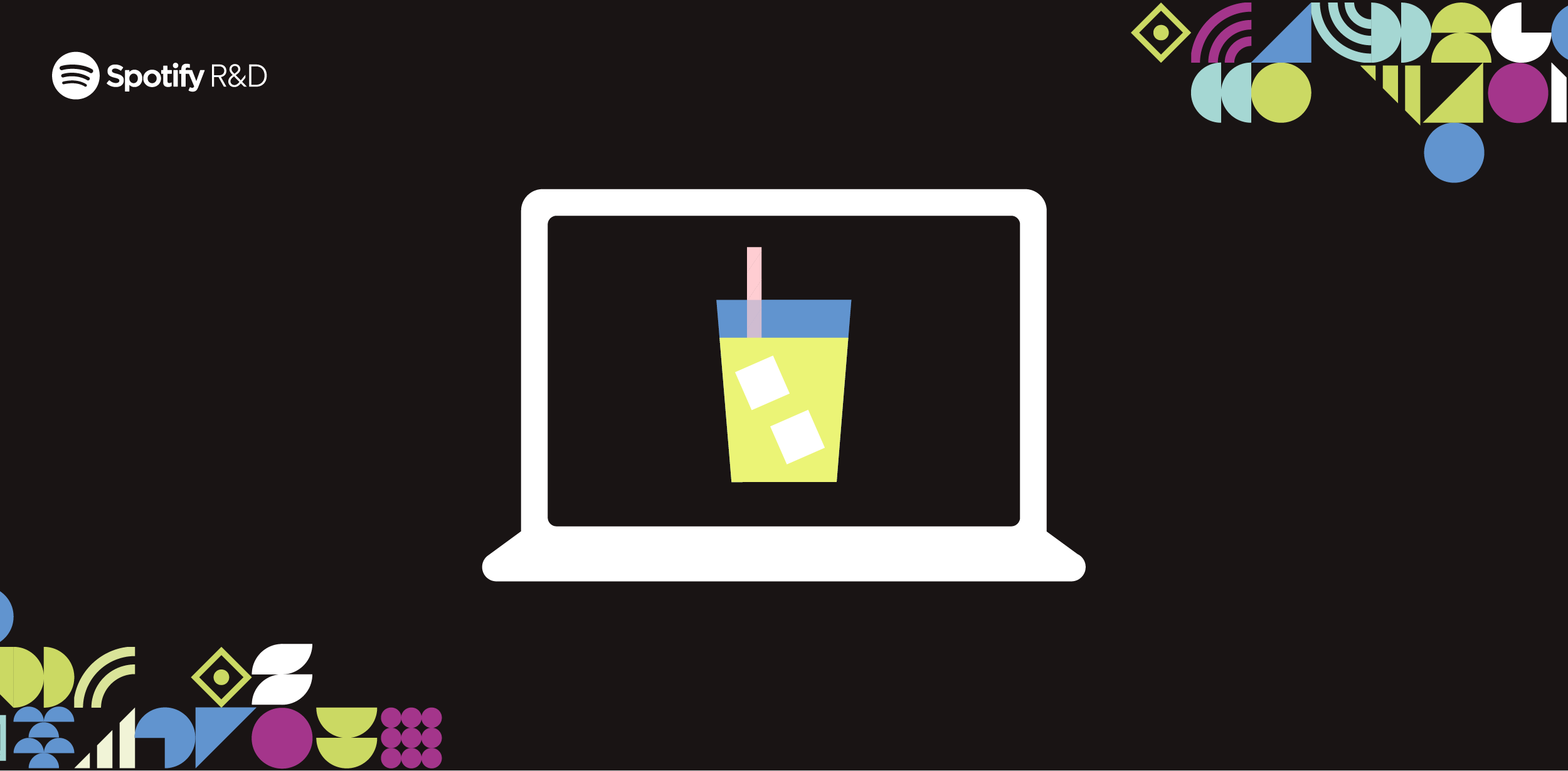 In 2019, we began planning for Spotify's second engineering conference set to take place in April 2020. It was expected to have about 1,500 attendees from a dozen different cities — seven separate tracks running for three days jam-packed with talks and, of course, social events, similar to the year before. The event was organized by 16 engineers from different parts of Spotify with added support from various partners along with volunteers to help on the day of the conference.
As you might've guessed, the conference was canceled.
From something to nothing, back to something
Besides the range of emotions everyone found themselves experiencing living through a global pandemic, a few of us lamented that it was unfortunate that we had just finalized the agenda for a three-day conference with over 140 hours of amazing talks from our colleagues just days before the whole thing fell apart.
To say that it was disappointing that those talks would never see the light of day is an understatement. But after a few weeks, we started thinking, "What if we had a conference anyway?"
This brought up a slew of other questions — "Will anyone want to speak?" (this was a yes), "Will anyone even want to listen?" (this was also a yes — whew), and "How hard could it really be to go from planning a 1,500 in-person conference to running a couple of virtual talks?" (LOL).
Calling on a few of the Spotify engineering conference organizers with experience in virtual events and community building, we started thinking about ways we could create a space for people to share what they've been working on this year and what they've learned while also boosting morale and inspiring people within Spotify R&D.
Keith McNeill, a member of the Techbytes committee and backend engineer, offered to loan us their infrastructure and playbook, so we didn't need to reinvent the wheel. Mike Lewis, a web engineer and a prominent member of the European web guild, offered to co-host our Central European Time zone (CET) talks (some of us in the U.S. are not early birds).
Edmond Chow, another web engineer, offered to help brainstorm a "brand" for our talks, and together we reached out to our Spotify Engineering Conference (SpEC) speakers to let them know about the new virtual space we were building for them. Internally, we decided to call it Tiny Desk Conference as an homage to NPR's Tiny Desk Concert series, which is a favorite among many U.S.-based Spotifiers for discovering new artists and watching live performances in an intimate, virtual format. Once we had the first enthusiastic "Yes!" from one of our speakers, we were off to the races, and Tiny Desk Conference was born.
As of mid-August, we've completed two seasons of internal and external talks featuring 32 speakers from four different time zones and six different offices, with almost a dozen still in the works. Talks covered each of the seven disciplines with colleagues in R&D: web, backend, data, machine learning/tech research, mobile, quality, and leadership/Agile. We've seen a higher than expected number of people tune in live to each talk and an equivalent number of people watching the videos after they were posted. We're thrilled to say our Tiny Desk Conference experiment has been a success.
What have we learned from our first two seasons?
A speaker needs an audience
If you haven't done a talk online, bear in mind that it can feel very much like you're speaking into the void. It's easy to take for granted how valuable the energy and feedback brought by an audience can be until you are forced to give a presentation without one. Sometimes, this might be a bonus for those with stage fright, but for many, missing the human connection can be incredibly difficult.
For future talks, we are exploring side-channel discussions, instant polls for engagement and feedback for our speakers, pre-recording talks and allowing the speaker to interact via chat with the audience during the stream. We're also considering simple breakout sessions before and after for organic conversations and connections. A wide array of possibilities exist that can feed some energy back to the speaker.
Remind and keep reminding
At first, we made the mistake of emailing a single calendar invite with a quick message via Slack the day before. We figured since we would be running these talks several times a week, no one wanted a million calendar invites cluttering up their work calendars inviting them to talks they weren't actually going to attend. Turns out we were very, very wrong.
Our new approach? Be steadfast with reminders. We now send invites with email reminders regularly to fairly broad audiences, and post about them in a wide array of internal channels, both prior to and on the day of the talk.
Keep it personal
When we first started reaching out to our speakers, we sent customized emails to each individual and, as you can imagine, the response rate was quite high. Still, it was a time-consuming approach. For the backend engineering talks (all 90 of them) we sent a mass email, hoping to bring in volunteers to speak, but with less effort. We received a significantly lower response rate, and ended up reverting back to our high-touch, time-intensive approach. In this case, we learned that mass emails may not be the best approach and that you get back the energy you put into it!
Virtual ≠ less effort
Surprisingly, hosting a virtual talk actually requires more work than hosting an in-person one. First, the AV check tends to be more extensive — you can't just fall back on shouting at the audience if your livestream isn't set up correctly (Amplifier, our internal event production team, has been a huge help and has supported every single one of these talks!). Further, in our case the duration of our event extended from a condensed three-day period to several times a week for months — the promotion cycle and AV checks no longer happen just once or twice, but before and after each and every talk, several times a week, for months. This also applies to coordinating speaker prep, announcements, emceeing talks, and generating assets such as graphics, promotional flyers, and recordings as a team, all of which adds significantly more overhead and planning in order to ensure that all parties involved are on the same page.
Bite-sized inspiration
For attendees, it means that they aren't investing a full three days into a conference, but rather 20 to 45 minutes at a time for topics they're genuinely interested in. For physical conferences, there's always a drop-off in attendance on the last day (whether a conference lasts three days or five days, conference burnout is real), so having more "bite-sized" talks spread out over a regular cadence has meant that our attendance numbers have stayed relatively stable over the past four months.
So what's next for Tiny Desk Conference?
On September 9th, our second season came come to a close, and now we have some time to think about where we go from here.
What does an internal conference look like going forward? This is something that we and our leadership team who sponsor our internal conference week are wrestling with. While Tiny Desk Conference has been a wonderful experience, it wasn't intended to be a conference replacement. The question of how Tiny Desk Conference will fit into our internal conference week going forward, if it will at all, is still open and being discussed.
That being said, this experiment would not have been possible without the playful and gung-ho attitude of our Spotify R&D colleagues, so thank you to those who have joined us on this ride of successes and failures in an effort to create something wonderful.
Tags:
engineering leadership