Introducing NerdOut@Spotify: A New Podcast for Developers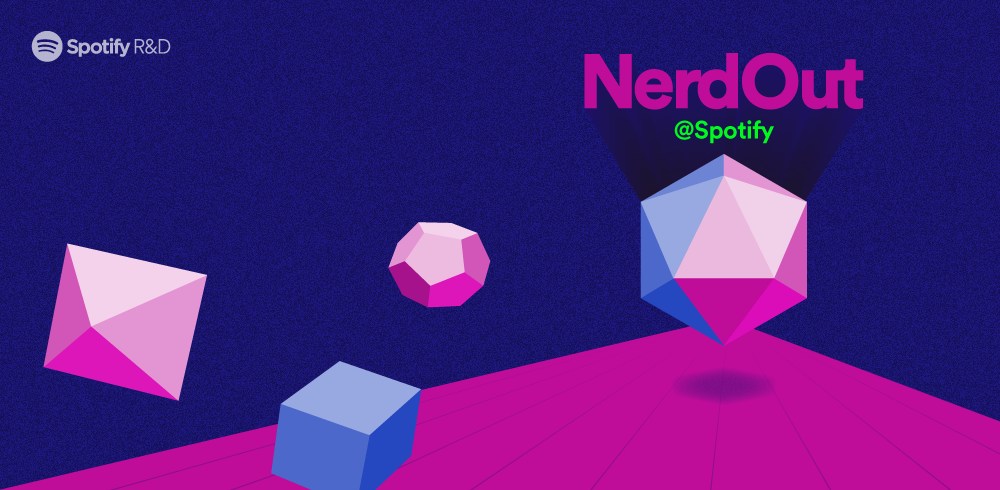 TL;DR For years, Spotify's official engineering blog has been giving you a peek behind the curtain at Spotify R&D. Today, we're announcing NerdOut@Spotify, our new R&D podcast that gives you another view into our tech world. In each episode I'll talk with Spotify developers about challenging tech problems and give you a firsthand look into what we're doing, what we're building, and what we're nerding out about at Spotify every day.
As a Spotify engineer, I've seen this company transition from a music-only service that was fighting to keep up with the speed of our user growth to becoming an audio streaming platform operating at global scale. I'm excited to see what happens next in our tech journey, and this podcast gives us a way to share that journey with you, while introducing you to the amazing people who work here.
Come learn with us
Software development has always been a very rapidly changing field, and every company does it a little bit differently. Both writing software and owning and operating high-scale systems have drastically changed over the years, and will continue to rapidly change every day. This brings new challenges, new technologies, new languages, but also bigger opportunities and all new ways to make an impact.
As developers in this rapidly changing industry, we're constantly learning; finding new things that we didn't know about every day. If you'd like to join us on our journey of constantly experimenting, inventing, building, testing, and debugging, and just dig much deeper into all of the nerdy things that we're up to at Spotify, NerdOut@Spotify is the podcast for you.
Tackling tech issues from the inside out
Join us on a behind-the-scenes tour of how we innovate at Spotify. We're tackling interesting challenges and exploring the possibilities that new technology and trends bring to our products. Find out what we're currently learning about — new cloud services, open source software like our own Backstage, infrastructure trends like Kubernetes, applying new innovations in machine learning, and our constantly increasing scale and the challenges that that brings.
We believe that these are the same problems that many of our peer companies are facing. So, we are bringing these conversations from the hallways of conferences to your podcast player. We'll bring these topics in a way that only Spotify can, and highlight the ways in which we are approaching these challenges that are unique to our aligned and autonomous squad culture. Of course, we'll also touch on the playful sides of our culture and show you some of the nerdy ways in which we have fun.
Meet the people behind the tech
In every episode, you'll hear from nerds just like you digging into topics that they love. We'll introduce you to people from all over Spotify and all around the world — developers, engineering managers, data scientists, designers, PMs, and just about any other R&D role — from all experience levels and backgrounds. Hear their individual stories and how they got to where they are now. Share in their passions, and learn from their failures and successes.
We'll cover plenty of big topics, but won't be afraid to go a little too deep into some small obsessions, covering everything from the world of DevOps and some language wars, to Lego, gymnastics, and Kubernetes clusters running the lights in our homes.
Listen and subscribe now
Our first few episodes are live now and dive into the deep end: We explore open source, the problem of developer experience, and Backstage, the open platform for building developer portals that was created at Spotify, donated to the Cloud Native Computing Foundation (CNCF), and is now maintained by a worldwide community of contributors.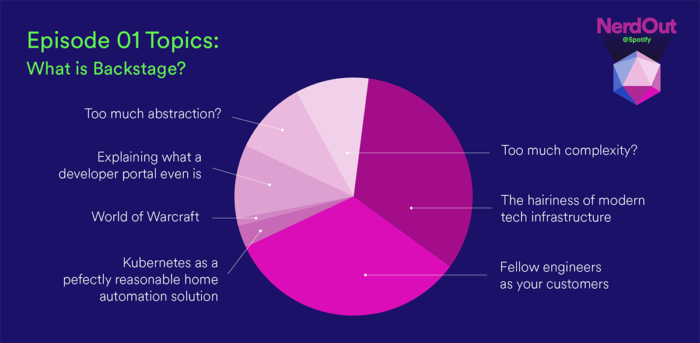 Come and listen on Spotify or wherever you get your podcasts, including:
Be sure to follow the show so you're in the loop when new episodes drop. I hope that you'll listen and enjoy the show.
NerdOut@Spotify is produced by Spotify's Ted Vergakis and our friends at Seaplane Armada.
Tags:
engineering culture
,
engineering leadership