Supporting Future Engineers: Spotify's Partnership with The Marcy Lab School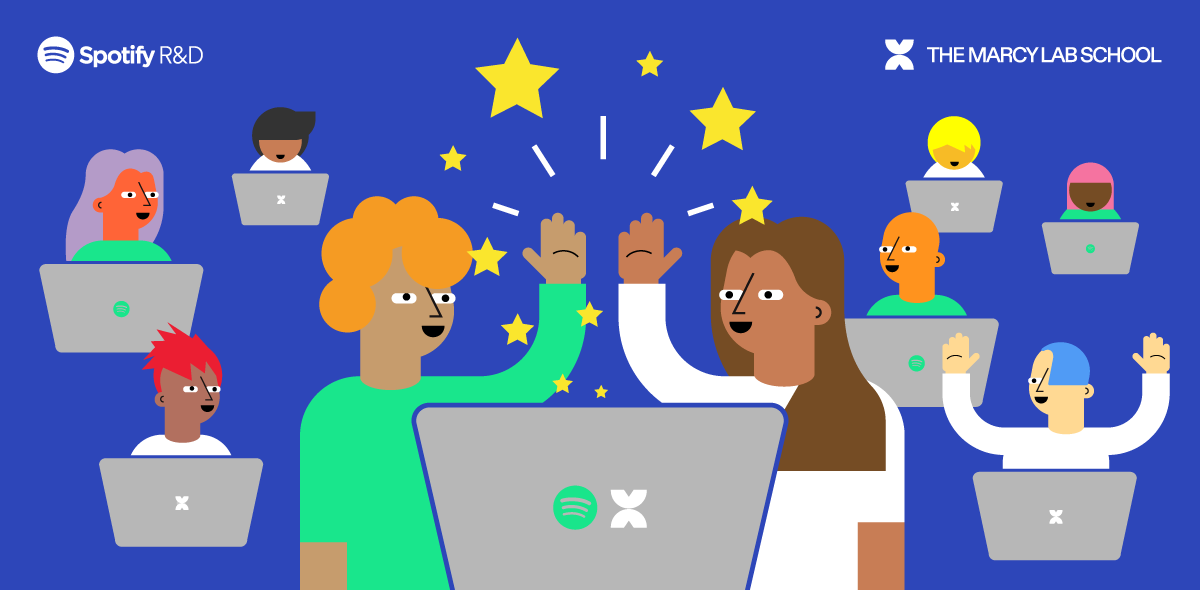 In September 2020, we had the exciting opportunity to partner with The Marcy Lab School with the hopes of creating opportunities for Fellows to: (1) interact with Spotify employees (2) receive training in how to navigate the technical interview process at Spotify and beyond, and (3) become well-versed in the Spotify Internship and Fellowship application process. To help us achieve these goals, we turned to our engineers.
About The Marcy Lab School
The Marcy Lab School, based in Brooklyn, New York, offers a one-year software engineering fellowship specifically targeted to students of color from low-income backgrounds. The Marcy Lab Fellowship prepares students for purpose-driven, financially rewarding careers in technology through engineering coursework, networking with partner companies, and personal development. Founders Reuben Ogbonna and Maya Bhattacharjee-Marcantonio are educators who saw firsthand that rising college costs in the United States left many young people — especially students of color — with few career options and significant debt. They launched Marcy in 2019 to provide an alternative for students without a four-year degree to land high-paying roles in the tech industry.
The volunteers
Spotify engineers are especially passionate about sharing their knowledge, whether it's presenting at a Tiny Desk Conference, teaching an internal TechU course to their peers, or mentoring others. So it was no surprise that twenty of our engineers, many of whom identify as people of color or as coming from nontraditional computer science backgrounds, volunteered for the pilot.
Each volunteer dedicated their time to mentor Fellows, participate in career panels, provide feedback on Fellows' closing projects, conduct mock interviews, and share their experiences and advice for the Fellow cohort.
At the end of the pilot, the volunteers unanimously agreed that partnering with Marcy was a valuable experience and were interested in volunteering again in the future.
What happened? And what's next?
Following the partnership pilot in 2020, 13 Marcy Lab Fellows applied to our Tech Fellowship program with 2 Fellows matriculating to the Tech Fellowship.
We're happy to say Moises Dolores and Denysse Cunza Balvin each completed the Tech Fellowship with Spotify and were hired as full-time Associate Engineers. Here's what they had to say about the experience:
When I found out Marcy had a partnership with Spotify, I was super excited at the chance to be part of this company. The partnership allowed me to get a closer look at this company's values and learning culture, which made it easy to decide that this is where I wanted to start my career. From being a Spotify Tech Fellow to now a full-time software engineer, I have grown so much and I'm glad I made the choice to be a part of the band.

— Moises
The partnership between Spotify and Marcy Lab School tremendously impacted my decision to apply for the Spotify NYC Tech Fellowship Program. I was able to get firsthand accounts of what it was like being a part of the band, insights on the company's culture, and see what kinds of values the company held. It made the decision of starting my career at Spotify that much easier because everything aligned with what kind of place I'd like to work at. I have learned so much since joining the band, I will forever recommend working at Spotify to everyone!

— Denysse
Given the success of the pilot, we've continued our Marcy Lab School partnership for the 2021–22 Fellowship. Spotify engineers have already been matched as mentors, with many more to be matched in Marcy's spring cohort. There are plenty of events on the horizon, and we're excited to continue to build pipelines that connect talented, early-career engineers with roles at Spotify, and to give Spotifiers the opportunity to expand their impact.
Applications for the Spotify Tech Fellowship are still being accepted! You can apply here until the deadline on May 6th.
Learn more about Spotify's commitment to diversity, equity, and inclusion in hiring here.
Tags:
engineering leadership