Spotify Spotlight: Interview with Product Manager Sabrina Aronson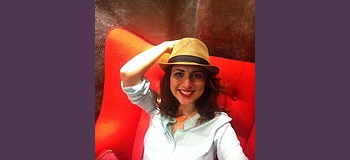 This is part 1 in our new interview series called "Spotify Spotlight." In these interviews, we showcase Spotifiers working in a range of different tech roles, and learn more about their journey to Spotify and what they love about working here.
What's your name and where are you from?
My name is Sabrina Rabello Aronson. I was born and raised in Brazil, but my life has sort of turned me into a real-life version of "Where's Waldo?". Since leaving Brazil, I have lived in multiple cities in the U.S. as well as Lausanne, London, and Amsterdam.
What was your journey to Spotify?
I briefly studied in the U.S., then finished my undergrad degree in Physics in Switzerland. After that, I pursued a PhD in Applied Math in the UK. It was during that time, that I began to play and write music. A few years later, I actually won a competition sponsored by Slicethepie.com (discovered through MySpace email spam!) that granted me $20,000 to record an album. This experience was magical and transformative, and really elevated my interest in working in the music industry someday.
After my PhD, I moved to Boston to pursue a postdoc in Network Science. During that time I formed a Jazz trio and began taking classes at Berklee College of Music. I started my post-academia career working at Island Def Jam Music Group (UMG) in NYC, then moved to Amsterdam with my husband and worked as a data analytics consultant. We decided to return to the U.S./NYC in 2015 which is when I joined Spotify. It's been a long strange journey that ultimately encapsulated in my love for music/science/math as well as the music industry.
What do you do at Spotify?
I started out as a Researcher on Spotify's Analytics team. Since then, I have become a Product Manager. I lead a team of 7 (including myself and an Agile Coach) focused on creating datasets related to content and creator understanding. Our mission is to find data-driven ways to help creators find success in their careers and to help Spotify best leverage that knowledge to its' business.
What is the most challenging part of your job?
A big challenge for me as a Product Manager is navigating the communication channels between multiple parties. This role forces me to communicate to many different stakeholders so that we're not just playing a game of telephone where ideas and needs get distorted in the process. Balancing the needs of my team and different stakeholders can be challenging at times, but I always look for the solutions that work to the benefit of both parties.
How would you describe the Spotify culture and what it means to you?
As cheesy as it sounds, Spotify is the only environment I've worked in where I feel a sense of belonging. I always felt like an outsider other places. Before Spotify, I either had to hide my music obsessed artistic side from my scientific and business side day to day. I finally feel like I've found a home that draws on my passion and professional experiences effortlessly. Plus there's so much diversity and inclusion here. For example, as mom of a young toddler, I have been truly grateful for Spotify's progressive parental leave policy. It made a huge difference in my personal and professional life. In addition, participating in Spotify's open mics is amazing. Every month, our musicians club host "Friday Night Live" – a monthly after work party and performance where Spotifiers take the stage to entertain their colleagues and friends. These performances are an added employee benefit – almost like a form of therapy – to look forward to every month.
Tags:
engineering leadership